This week was the International Builders' Show in Las Vegas. Two of our Project Managers, Dave Matta and Tom Grates, had the chance to attend the show and see the latest products coming to the market for 2015. Check out Tom's recap below!
PART 1
While at the IBS show in Las Vegas, I have had the opportunity to meet with many of the leading manufacturers in our industry. Over the next few days I will be posting some of the most interesting items I have run across. Many of these items fit well in the concept of Universal Design, which is what I consider the way of "looking ahead" while you are remodeling, it is something to add now, to make your life easier as we stay in our homes.
The first item came to me from our friends at Homeward Bath. It is a step through bathtub system that has a small glass door that keeps your tub fully functional. The ease of stepping through the door and closing it was the first thing that drew my attention. The tub comes with a teak wood seat that can be left sitting on the tub, or removed to make the tub a functional soaker.
The door has been made shorter than the previous model, that always had been an issue if you fell inside the tub and needed to get out. A much needed safety improvement.
As my wife and I were discussing remodeling the bathroom, we decided to use this tub in our new project. The tub will last us well into our retirement years, and will still offer my daughter the functionality of taking a bath, not to mention that some day when our children return with children of their own, we will still be able to bathe them in the bath.
This tub deserves kudos from us at the 2015 show!
PART 2
A new twist on an old design!
Another great item I spotted at the IBS Show today was the barn door hardware kits by CSH (Custom Service Hardware).
Many of us are familiar with the old style barn doors that were used for barns, horse stalls, and many other older out buildings.
One of the largest trends I noticed at the show this year that many hardware companies have taken this old design, and put a trendy twist on it. These items are engineered to perfection, the simplicity of opening was unbelievable. They are offered in many finishes, from black hammered steel to stainless, polished to perfection.
I was drawn to them by the looks, and soon started thinking of ways that I could utilize these to save our customers time and money. I began to think, what if I was to remove a 32 inch door and frame, remove the Jack Studs (studs that hold the door header in), install a HH44 header bracket (bracket that takes the place of the Jack Studs), finish, and stain. This would create an additional 4 inches at a minimum, now making that door opening 36 inches wide.
This renovation could not only make your home stylish, but could offer the functionality of a wider door opening, with minimal time and construction dust.
Stay tuned to RRI site, as I will take pictures as I remove a 30 inch door from my camp, and install this hardware.
PART 3
Last, but definitely not least is the elevator system by PVE (Pneumatic Vacuum Elevators).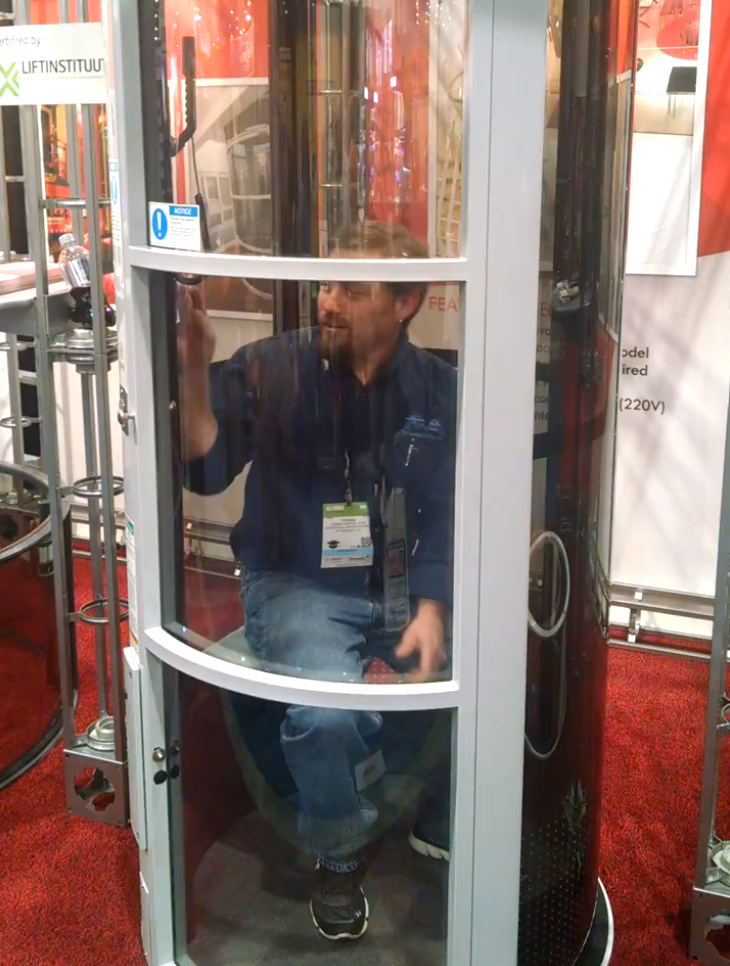 As a young child, I was always fascinated when my father would go to our bank, pull up to the drive through, and put his paycheck in the carrier and hit the button. That vessel would go though the tubes, and magically end up in the tellers hand inside, I always wondered what it would feel like to ride through that tube.
Well the people at PVE have taken that technology and used it as an elevator system for your home. They make this product in three diameters, a 30, 37, and 52 inch models.
What are the advantages of this type of product you ask, well there are many. First, there is no pit system needed, so busting up your basement floor is done. No dusty home, no noisy jackhammers running all day, no mess of disposal, and no mess of pouring concrete in your basement. The entire system fits in under an 18 inch area at the top of the unit.
I got the opportunity to ride in the elevator, and can tell you, it is very smooth, not noisy, and has a built in seat that would have been great when I broke my leg a few years ago! Watch the video on our Facebook Page.
This item gets my vote for "Best of the Show" in 2015!